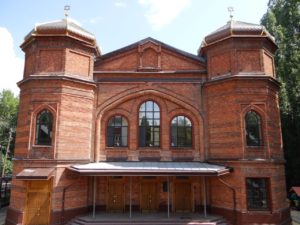 Welcome to the website of the Jewish community of Voronezh!
Our community located at the Voronezh synagogue building. Our adders is Stankevicha st. 6, Voronezh. The main entrance is from the gate of Svoboda st. 29 building
Here is a link to our synagogue location at Google Maps
We're happy to invite you to join us for Shacharit pray with Minyan at 09:00 in weekdays and 10:00 at Shabbat and Yom-Tov. 
If you wish to join us for a Kiddush and Shabbat or Yom-Tov meal please let us know by email: mrovero@mail.ru
Also you may email us if you wish to get kosher meat, grape juice or you need any giudelines about the jewish life in Voronezh and the Voronezh region.
There is a mikvah in Voronezh that is kosher according all the Shitot (also Chabad). If you need to use the mikvah please email us to arrange your visit.
Exept of the listed above our community has:
Children's Center "Shemesh-Matanel".Our children study about the Jewish tradition and get a kosher food for a full day stay
Sunday school for children of school age with learning about the traditions of the Jiwish nation
Jewish youth club – sport, clubs, evenings of Jewish cinema, travel, Havdala, themed games, organization of holidays
"Memory and respect" – the maintenance of order and the implementation of improvement of Jewish cemeteries of Voronezh and the Voronezh region
Memory opposing their oblivion – a program dedicated to the study of the history of the Holocaust. Two educational trips to Poland were done with a visit to the memorial complex of the Auschwitz-Birkenau camp
Museum – the creation of an interactive multimedia museum "The Jewish history of the Voronezh province from its origins to modern days"
Charity organization Chesed Nechama and Yad la Chole
School Volunteers – attracting and training volunteers to work in the community projects
Classes in the dance circle – songs in Hebrew and Yiddish
Library
Women club
Hebrew language classes
Rabbi – Avigdor Moshe Nosikov
Head Of Community – Konishchev Viktor
Email: mrovero@mail.ru
We are very grateful for any assistance. You can donate to our community by pressing the botton "Donate" at the top of the page!